Welcome!

Wecome to St. Matthew's website. St. Matthew's Episcopal Church is a parish of the Diocese of West Missouri located in Raytown. In 2003 we celebrated our 50th anniversary of service in the Raytown community. We are an active congregation with many Opportunities for Ministry both within and outside the parish. Stewardship of relationships is a priority at St. Matthews. We care for and respect each other and it shows in our care of visitors and newcomers. You are always welcome and hospitality is a ministry we take seriously. more...
Events
Click here for events of the week of 2/8/2016
ESL News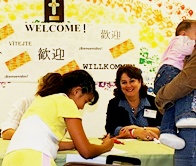 For the latest news concerning ESL click here...
Updated 10/14/2015
Vision & Mission
Vision

We are a community that seeks to serve Christ in all people through God's forgiving love.
Mission
We are here:
To offer sanctuary, acceptance and forgiveness
To strengthen and encourage each other
To advocate for and empower those in need, and
To worship, pray and grow in Christ.